"SMART" TECHNIQUE TOTAL KNEE REPLACEMENT
BE SMART, CHOOSE Bone & Joint Hospital
Medications, walking supports and altering activity levels may no longer be helpful after the knee disease progresses beyond a certain level. If you are at this stage, Total Knee Replacement (TKR) surgery is the best treatment option, as it corrects leg deformity, relieves pain and allows you to easily perform your daily activities."SMART" technique of Total Knee Replacement surgery is the latest advancement in replacement surgery and is performed by the best surgeons at Bone & Joint Hospital, who are one of the pioneers of TKR surgery in India. Dr.Sivamurugan Soundarapandian heads the TKR unit at Soundarapandian Bone and Joint Hospital and is highly trained, and highly skilled. He has followed his esteem father's footsteps to become one of the best, most ethical surgeons in India. After the "SMART" TKR, you will experience relief from symptoms and also be able to do difficult tasks like kneeling and squatting. Surgery is commonly done under general anesthesia (patient completely unconscious), or using spinal or epidural anesthesia.
BENEFITS OF "SMART" TECHNIQUE
When you choose the "SMART" technique for your TKR needs, you will be assigned the best team to provide you with all these benefits:
• PAIN LESS: Patient will have minimal pain after the surgery. Pain management is an important part of Bone & Joint Hospital and we are keen to put the comfort of the patient first.
• EARLY DISCHARGE: Patients deserve to be home with their loved ones. Bone & Joint Hospital "SMART" technique allows patients to get discharge within 2 days. Due to our highly skilled team, our patients recover much quicker, have minimal pain and are made confident for an early discharge.
• EARLY WALKING: Patients will be made to walk 4 hours after the "SMART" knee surgery by our highly skilled team.
• EARLY NORMALCY: Patients are back to normal with 15 days post operatively. Back to your routine!
WHY CHOOSE Bone & Joint Hospital?
• One of the first hospitals in India to perform Total Knee Replacement
• Successfully completed over 20,000 surgeries by our highly skilled replacement team.
• We always use the best implants and surgical equipment
• Bone & Joint Hospital maintains extremely sterile conditions for all our surgeries. We have a much lower infection rate, when compared to the average norm of Total Knee Replacement.
• Excellent in-house rehabilitative care. Our excellent physiotherapy team is always available to guide you to get you back to your routine in no time.
• Negligible percentages of patients require a redo surgery (< 1%). Bone & Joint Hospital maintains strict data's and protocols to monitor our TKR patients for the best possible outcomes.
• Ethics plays a key role in the Bone & Joint Hospital culture. We have never operated on a patient that will not benefit from the surgery. SBJH comprises of a core TKR team that discusses each individual patient and decide together the treatment options for the patient. Rest assured you will be in good hands.
• NABH accredited, NABL accredited for safety and quality
Make an Appointment
Diversified excellence in orthopedics and uncompromising standards of patient care
+

91-291-2110000 / 9694022550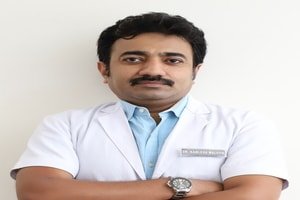 Dr. Kamlesh Malviya
MS (ORTHO)
Knee Replacement Surgeon
More Information
To learn more about our comprehensive services, contact us, or to make an appointment with one of our specialists, fill out the appointment form to the right.
The Bone and Joint Hospital is a premier centre offering complete orthopaedic care, rehabilitation and pain management services to patients of all ages and activity levels using a customized treatment plan to fit individual needs.